Aeon Dashboard
This is a continuation of the XilVGA project - where it's becoming the dashboard for my Aeon GT3.
Gauge placement
I did a rough layout plan for the dashboard gauges based on what I was expecting to use. The gauges are as follows:
Speed (measured)
Revs (ECU CANBus)
Fuel level (measured)
Water temperature (measured or ECU CANBus)
Oil temperature (measured)
Oil pressure (measured)
Boost (ECU CANBus)
Inlet temperature (ECU CANBus)
Fuel pressure (ECU CANBus)
Battery voltage (measured or ECU CANBus)
Some of them can be taken either from the ECU (which I'm luckily using one with a CANBus interface), or measured using the existing senders I've got for the DigiDash unit.
Anyway, here's what the XilVGA is plotting: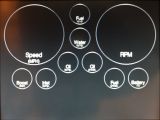 Unfortunately, the camera doesn't really like the contrast, so is getting a lot of the reflection off the screen. It also can't seem to auto-focus either.
Other things that will be displayed are:
Brake fluid warning
Indicators (these may need to be replicated by LEDs)
Fog light warning
Side/dip light
Main beam warning
Current MP3 track (I want to give it an MP3 playing capability)
Date last modified: 2019-10-20 16:24:39