Martian - day 5
The next step was the upper thigh - although while making it, I realised that the way I was describing it is probably wrong, as I'm about to reach the main joint - i.e. the knee.
Anyway, whatever it is, the design is like this: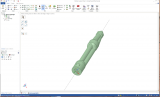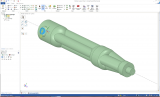 The hemi-sphere which is highlighted in the second picture will take the brace from the body.
I printed this out, and stuck it on the top:




Since I wanted to see how well it would print everything vertically - and to see it in a colour that is closer to what I'll actually do it in (I would need to buy some grey filament though), I printed it out in white:




Date last modified: 2019-10-20 15:45:20